For 15 years, the Certina Inline Race has been leading the 100 km race through the old town of Biel/Bienne.   Top athletes and amateur athletes will be at the start of the half-marathon.
Before the 100 km run, there is always a special atmosphere on the central square in Biel/Bienne. The streets are already lined with spectators.  For many top athletes, the Certina Inline Race is regularly scheduled for the year.
Before the start of the half marathon, all inline skaters can skate through the city in the Fun & Enjoy category: it's not about winning, but participating, having fun, moving around and enjoying Biel on wheels in the evening. 
Time
Program
Year
Distance
Rounds
16:30
Opening late registration, start number distribution and village
19:40
Start Kids (m/f)
2007 to 2010
1.9 km
1 small Rounds
19:42
Start Minis (m/f)
2011 and younger
1.9 km
1 small Rounds
20:00
Award Cermony Minis und Kids
20:15
Start Half Marathon
2004 and older
21 km
6 Rounds
20:16
Start Juniors
2003 to 2006
10.5 km
3 Rounds
20:17
Short Distance (m/f)
alle
10.5 km
3 Rounds
Time Restrict 40 min
21:30
Award Cermony
Programme in the skate village
skate village on the marcetplace with food an drink
village stalls of our sponsors
Rent and sale skate products
*short term changes of the program are possible
Category
(Beschreibungen)
Year
until 08.04.2018
until 01.06.2018
late registration
Half Marathon
(21 km, 6 Rd.)
2004 and older
45 CHF
50 CHF
55 CHF
Short Distance
(10.5 km, 3 Rd)
all
15 CHF
20 CHF
25 CHF
Juniors
(10.5 km, 3 Rd)
2003 to 2006
20 CHF
20 CHF
25 CHF
Kids
1.9 km (1 kl. Rd)
2007 to 2010
10 CHF
10 CHF
15 CHF
Minis
1.9 km (1 kl. Runde)
2011 and younger
5 CHF
5 CHF
10 CHF
Online registration until 01.06.2018
Late registration until 1 hour before start in the skate village
The route runs through the city centre of Biel/Bienne. Some of you will run on the original 100km race track and at the roadside you will be cheered by the spectators, who cheer for the 100km runners after the inline race!
The culmination point at the end of Dufourstrasse is a U-turn. Here it is important to take away the speed and go deep into the squat so that as much speed as possible can be taken away.
Die Anreise mit der Bahn wird empfohlen. Vom Bahnhof ist der Weg zum Village markiert.
Wer mit dem Auto anreist, parkiert am besten ebenfalls im Bahnhofparking und kann entlang des markierten Weges bis zum Village auf dem Zentralplatz laufen.
Es gibt keine extra Einfahrstrecken. Die Teilnehmer können sich jedoch vor dem Start auf der freigegebenen Strecke einfahren.
Garderoben und Duschen befinden sich in der Turnhalle Esplanade
The male and female winner of the half marathon receive a precious Certina Watch
The winner of all categories will receive attractive goodies and giveaways.
all minis, kids an juniors receive a medal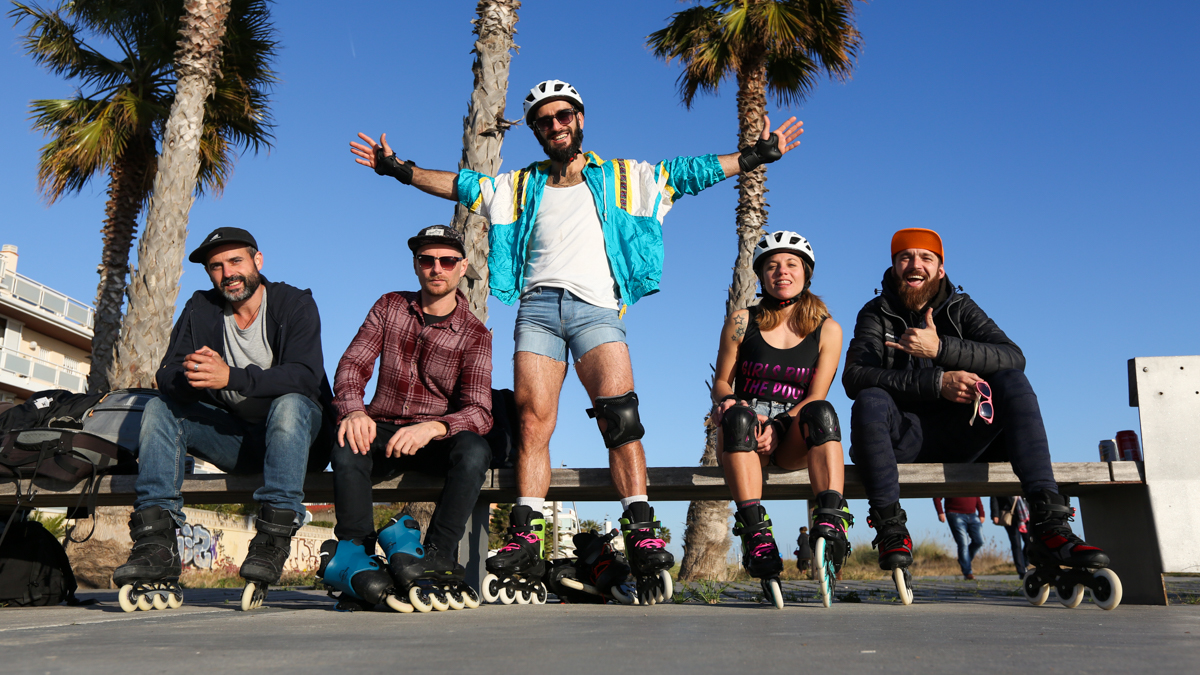 Spring has arrived. Were you on the skates the first time? No? Not fit yet or not the right material? Then Saturday, April 14th is your date! weiter lesen ...