The opening course of this year's Swiss Skate Tour runs through the old town of Basel, along the Rhine. Start and finish are centrally located on the marketplace. From there, skate through the closed pedestrian zone in the direction of the large shopping street, down to the Rhine, across the Schwarzwaldbrücke, passingt the Tinguely Museum and the imposing Roche Tower; back over the Middle Brigde to the Marketplace. As always, the skaters can choose between different distances and categories. Decide for yourself how far and how fast you want to skate through the city this Sunday morning!
For the youngest kids there is KidsOnSkates, after that everyone can skate the mini or kids track. We are also looking forward to many guests from Germany and France! Lets Skate In The City!
City Skate Basel is an evaluation stage of the Baden-Württemberg-Cup (BWIC)
Time
Programme
Year
Distance
Rounds/Laps
08:00 am
Opening late registration, start number distribution and village
09:45 - 11:15 am
KidsOnSkates Theodorskirchplatz

10:00 am
Start Long Distance (m/f)
2004 and older
32.2 km
6 Rounds
10:01 am
Start Short Distance (m/f)
2004 and older
21.4 km
4 Rounds
10:02 am
Start Juniors (m/f)
2003 to 2006
10.7 km
2 Rounds
10:03 am
Start Enjoy & Fun (m/f)
all
5.35 - 21.4. km
1-4 Rounds
time slot 60 min
11:20 am
Start Minis (m/f) (Theodorskirchplatz)
2011 and younger
950 m
11:20 am
Start Kids (m/f)
(Theodorskirchplatz)
2007 to 2010
950 m
11:55
Award Cermony
Attention: In our Village you will also find the Village of our partner event, the 2nd Basel Women's Run. Please observe the signs and announcements!
Supporting program in the Village
Catering stands
Sponsoring stands
Sale and rental of skate equipment
*Short-term changes in the program are possible
Category
(Beschreibungen)
Age group
until 06.03.2018
until 29.04.2018
late registration
Long Distance
(32.2 km, 6 Rd.)

2004 and older
60 CHF
70 CHF
80 CHF
Short Distance
(21.4 km, 4 Rd.)
2004 and older
50 CHF
60 CHF
70 CHF
Fun & Enjoy
(5.35-21.4 km, 1-4 Rd)
all
20 CHF
25 CHF
35 CHF
Juniors
(10.7 km, 2 Rd)
2003 until 2006
20 CHF
25 CHF
35 CHF
Kids
(950m from Theodorskirchplatz until Marketplace)
2007 until 2010
10 CHF
10 CHF
15 CHF
Minis
(950m from Theodorskirchplatz until Marketplace)
2011 and younger
5 CHF
5 CHF
10 CHF
End of the Online Registration ist the 29.04.2018. Late registration until 1 hour before start in the village.
Course Long- and Short Distance
Course Kids- und Minis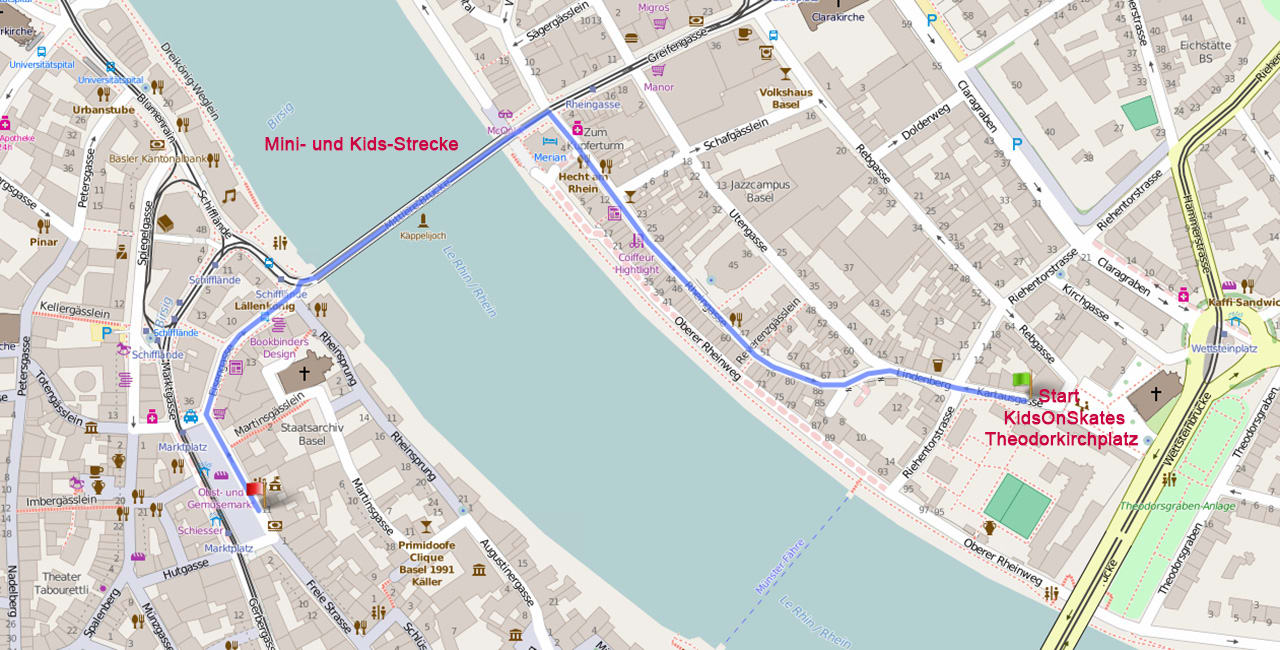 Sprint long distance 1st, 3rd and 5th round m/f 50 CHF
Winner prizes long distance
1st place m/f 200 CHF
2nd place  m/f 100 CHF
3th place m/f 50 CHF
The winners of the other categories (except Fun&Enjoy) will receive attractive non-cash prizes.
Traffic
The track and access roads are closed from Sunday morning for traffic from 09.30 am to 14.30 pm. Before and after that, partial closures with opening times are possible.
Parking
The public parking spaces and multi-storey car parks in the city centre must be used. Vehicles parked without authorisation will be towed away at a charge. Overview of multi-storey car parks:
http://www.parkleitsystem-basel.ch/stadtplan.php
Shower/Wardrobes
In the Rittergasse gymnasium there are wardrobes and showers. The clothes can also be deposited there.
Food/Drinks
In the village on the market square there are catering facilities. There are no further catering stations on the route.
Warum Up
The running-in on skates on the course may take place from 09.30 am.
Attention: The traffic will be forwarded until 09.30 am. 
The track is not closed before and must not be used (disqualification)!
Startnumber/Bip Chip
The start number must be attached to the right thigh. The timing chip must be attached to the ankle joint and returned immediately after the finish.
Non-returned chronometer chips will be charged CHF 70.
Safety
Caution at the marked danger points
Warning flags are used to indicate possible danger points.
Adjust your speed to your driving skills!
Skate right!
Faster skaters overtake left!
No sudden braking manoeuvres or snake riding!
There are support points along the entire route where emergency medical care is guaranteed.
Please enter a contact person on the back of your starting number for emergency calls. 
All other points are subject to the regulations of the Swiss Skate Tour.
Basel is is worth to visit for a few more days! With our partner hotel Swissotel Basel you can book special conditions with the indication "City Skate Basel".
| | |
| --- | --- |
| | Basel is not only a Swiss city with a big heart, with a smile on their face people from Basel proudly declare it a major city in pocket size format and they are right. The city by the Rhine offers everything you could wish for in a city trip. Culture and business go hand in hand while the Blackforest is only a stone's throw away. The same holds true should you decide to stay at the Swissotel Basel (4**** superior) where you will encounter elegant guest rooms and real Swiss hospitality. |
For our German participant we recommend the Carahotel at Basel/Weil am Rhein. 
The participants of the City Skate Basel and the 2nd Basel Women's Run last Sunday were delighted with bright sunshine and blue skies over Basel. Movement on wheels and on foot was the order of the day. For the second year, the two events will combine the infrastructure for the course and the Village. weiter lesen ...