ENGADIN INLINE MARATHON
The most beautiful and highest Inline Marathon in the World
Register now!
A fantastic landscape, mountains, lakes and fast asphalt await the participants at the highest Inline Marathon starting in Maloja (1800 m above sea level) to the finish in S-chanf (1670 m above sea level).
The Engadin Inline Marathon guarantees excitement, action and fun on wheels and is a must for every inline skater. Be it to skate  best times or simply to enjoy the impressive Engadine mountain and lake scenery on wheels.
Top athletes and amateur athletes from different countries come to the Engadine every year in September for this event. You shouldn't miss it in 2018 either!
The Masters World Championships 2018 will be held at the Engadin Inline Marathon. The start takes place in an extra category. More information and registration for masters at www.mmwc2018.com
TIP 1
For all those who want to experience even more Engadine, there is a new edition of last year's success Engadine Inline Marathon PLUS.
Make more out of this weekend in the Engadine with our experienced guides.
TIP 2
This year in the week before the biggest Inline Marathon in the world –
the Berlin Marathon Inlineskating!
Make these two weekends of superlatives to your personal skater highlights 2018!
(Photo: Copyright BMW BERLIN-MARATHON/Kindler)
| Time | Program | Age | Distance | Rounds |
| --- | --- | --- | --- | --- |
| SATURDAY 08.09.2018 | | | | |
| 2:00 pm - 8:00 pm | Late registration, start number distribution, village stalls | | | |
| 6:00 pm | VIP Welcome | | | |
| 6:00 pm | Mini Races (late registration possible until 5:00 pm, inline skates for kids can be rented) | 2011 and younger | 1 km | 2 little rounds |
| 6:10 pm | Mini Races (late registration possible until 5:00 pm, inline skates for kids can be rented) | 2007 to 2010 | 2 km | 4 little rounds |
| 6:20 pm | Sprint Races | | | |
| 7:00 pm | Award Ceremonies Kids/Minis / Sprints | | | |
| 7:15 pm | Welcome Ceremony | | | |
| 7:45 pm | Technical meeting | | | |
| SUNDAY 09.09.2018 | | | | |
| from 6:00 am | Shuttle Bus from St. Moritz Bad to the start in Maloja | | | |
| 7:30 am | Shuttle Bus from St. Moritz Bad to the finish S-chanf (for visitors and spectators) | | | |
| 09:00 am | Marathon Block A - D | 2004 and older | 42 km | |
| 09:07 am | Shortdistance | 2004 and older | 15 km | |
| 09:07 am | Juniors | 2003 to 2006 | 15 km | |
| 09:07 am | Enjoy & Fun | all | to 42 km | |
| from 09:15 am | Passage Marathon and finish line short distance in St. Moritz Bad | | | |
| from 09:50 am | Finish Line Marathon in S-chanf, clothes return, showers, wardrobes, refreshment stands. | | | |
| from 11:30 am | Return transport from S-chanf to St. Moritz Bad | | | |
| 1:00 pm | Award Ceremony in St. Moritz Bad | | | |
| to 3:00 pm | Finish in Village St. Moritz Bad | | | |
Program in the skate village
skate village  with food an drink
village stalls of our sponsors
Rent and sale skate products
*short term changes of the program are possible
Category
(Beschreibungen)
Age
until 09.07.2018
until 02.09.2018
late registration
Marathon
(42 km)

2004 and older
90 CHF
100 CHF
130 CHF
Short Distance
(15 km)
2004 and older
60 CHF
70 CHF
90 CHF
Fun & Enjoy
(bis 42 km)
all
70 CHF
80 CHF
100 CHF
Juniors
(14 km)
2003 to 2006
20 CHF
25 CHF
35 CHF
Kids
(2 km, 4 little rounds)
2007 to 2010
10 CHF
10 CHF
15 CHF
Minis
(1 km 2 little rounds)
2011 and younger
5 CHF
5 CHF
10 CHF
Services included in the start fee:
  Transport from St. Moritz Bad to Start Maloja
  Return transport from S-chanf to St. Moritz Bad (Marathon only)
  Clothing transport
  warm and cold drinks in the starter and finisher area, food in the finisher area
Finisher medal
Please note:
Online registration until 02.09.2018
Late registration and start number distribution is only possible on Saturday, 08th September from 2pm to 8pm in St. Moritz Bad.
An emergency start number distribution is possible on Sunday, 09th September from 06am to 07am in St. Moritz Bad (Hotel Laudinella). Ist only possible in consultation with the organizer!
Awards Sprint Saturday
1st Place 200 CHF
2nd Place m/f 100 CHF
3rd Place m/f 

  

50 CHF
Marathon Sunday
Prize Money Marathon 10.000 CHF more Information will follow
Finisher Medal
The winner of all categories will receive attractive goodies and giveaways.
Bank Julius Baer, St. Moritz
Our partner hotels offer various packages for participants and accompanying persons of the Engadin Inline Marathon.
The Laudinella und Reine-Victoria are located nearby the Skate-Villages und start number registration in St. Moritz Bad.  The hotel with the category Unique is open all year. It provides 204 rooms, dine around at up to six restaurants, coffee and cakes in the afternoon within the 3/4 board, convention rooms for any event, wellness with a view, culture programme, the spa and public indoor swimming pool Ovavera.
Reside in style in the art nouveau Reine Victoria hotel in St. Moritz and enjoy the accustomed value for money and first-class service offered by the Laudinella. Charming guest rooms, splendid lounges, a lobby bar for snacks and drinks, and banqueting rooms with chandeliers, stucco ceilings, antique mirrors and wall paintings will transport you back in time to the Art Nouveau era.
Room from 79 CHF per person and booking code  EIM2018. Book here: www.laudinella.ch oder www.reine-victoria.ch
Sporthotel Pontresina
The Sporthotel has been in existence since 1881. Our name is synonymous with exclusivity: We are the first and only sports hotel in the Engadine. Your hosts are passionate sports enthusiasts and nature lovers – making this family-run Art Nouveau hotel the ideal venue for action seekers, sports enthusiasts and families alike. Modern, spacious rooms, a varied cuisine, the perfect infrastructure, our diverse programme, and the hotel's ideal location in a village at the heart of the Upper Engadine make for the best conditions for holidays and sporting leisure activities in one of the most beautiful Alpine regions. A warm welcome to Pontresina.
Room from 95 CHF per Night/p.P. Book here
Inn-Lodge Celerina
The hotel that offers attractively simple holidays without compromising on style. Stylish design and simply furnished rooms provide an inviting backdrop. The hotel has 4,000 square metres of floor space, 252 beds and 67 rooms, lounges, Bistro.Lounge.Bar, free WLAN throughout the building, multimedia highlights and various bike infrastructure and services. The INN LODGE offers ideal accommodations for all guests: From a backpacker's budget to luxury rooms. Choose between multi-bed rooms or stylish studios. Wheter you're interested in outdoor activities or simply relaxing indoors, we offer the ideal environment. A unique ALL-IN-ONE hotel concept for a vacation you'll want to repeat.
Room from 48 CHF per Night(/p.P. book here.
Moore acommondations: www.engadin.stmoritz.ch
Travel 
Mehr Infos unter: www.engadin.stmoritz.ch/sommer/de/services/anreise/
Tip:
Die Rhätische Bahn macht die Anreise bereits zu einem Highlight, eine der spektakulärsten Alpenüberquerungen: Der Bernina Express von Chur/Davos über St. Moritz bis Tirano verbindet Sprachregionen und Kulturen – in Schlangenlinien und ohne Zahnrad. Ein Hochgenuss ist die Panoramafahrt durch das UNESCO Welterbe RhB … mehr lesen.
Wer aus dem Fenster blickt, der wird schon bei der Anreise staunen – oder wie wärs mit einer lokalen Spezialität im Speisewagen?
Die Anbindungen zu den anderen Bahnen (z.B. Zürich) fahren im regelmässigen Takt.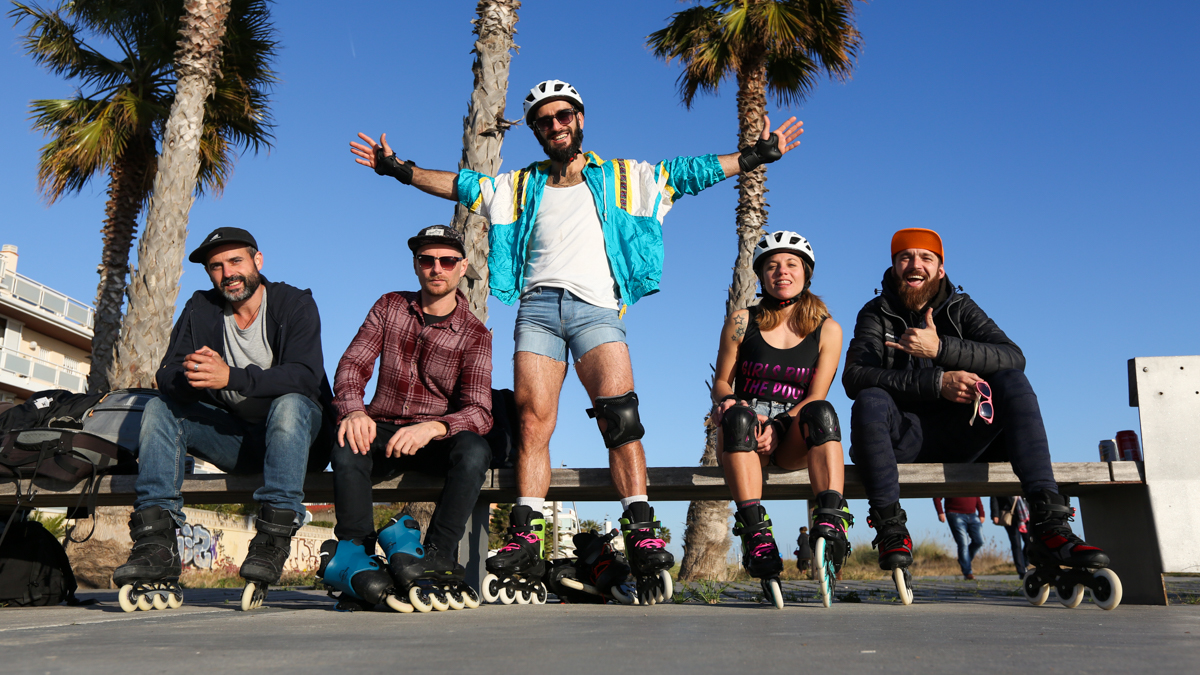 Spring has arrived. Were you on the skates the first time? No? Not fit yet or not the right material? Then Saturday, April 14th is your date! weiter lesen ...